Eagle Eye Signs - Over 20 years Experience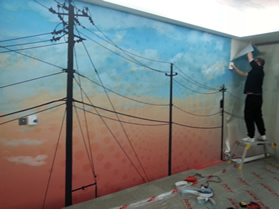 Printed vinyl – As stickers/Panels or as continuous " Drops" to cover a wall
Printed vinyl is similar to wallpaper in that it can cover large areas as a single panel or as "drops"

The benefit of printed vinyl is that it can be laminated – matt or gloss which provides a protective seal making it scuff resistant and also suitable for external use lasting for many years providing it is applied correctly and to a prepared surface. Printed vinyl can be used for internal office walls or externally on hoardings.

It can also be used to great effect as floor branding provided that an anti – slip seal is applied as opposed to a matt or gloss seal.