Eagle Eye Signs - Over 20 years Experience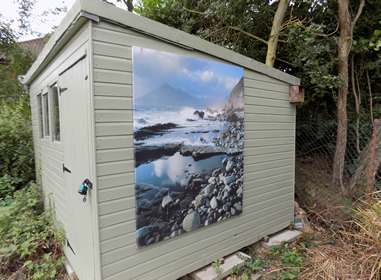 We love to create Garden Art. - Brighten up a dull wall or shady part of the garden or make a feature within a seating area. Turn your favourite high resolution holiday or hobby snaps into stunning large format garden art works. Printed onto vinyl with a matt or gloss laminate and mounted to external panels or aluminium trays – these art works very cost effective, durable and long lasting and can be left out in any weather for many years as the inks are UV fade resistant.



Or why not try our concept of "hide a fence" or "hide a shed" or hide or screen an untidy dust bin area. High resolution images are printed to a very fine mesh which allows wind, moisture and evaporation to pass through.
Simply stapled to an unsightly or tired looking fence you can create a backdrop for the perfect flower border or disguise a shed with your favourite beach or woodland scene. The mesh is durable and long lasting and the image will create the perfect garden setting and a great conversation piece.

Call us for details.